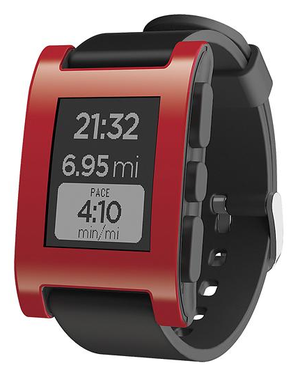 I'm on record as having poked fun at the Pebble smartwatch, mostly due to its clunky looks and throwback interface. (Buttons? Really?) But in all honesty, no competing product has come anywhere close to matching the Pebble's features and, especially, affordability.
In fact, today it's even more affordable: Amazon has the Pebble smartwatch in red for $119.99 shipped. (Best Buy is running the same deal, but you'll be on the hook for sales tax.) Regular price: $150.
To put that in some perspective, the wrist-pal I'm wearing now, the Martian Notifier, costs $129 — and does a whole lot less.
You probably know everything you need to about the Pebble, as it's been in production for over a year (following a storied Kickstarter launch) and is pretty much the poster watch for smartwatches. It's app-savvy, able to link with everything from ESPN to RunKeeper to Yelp, and it notifies you when calls and messages come in — arguably a smartwatch's most important function.
Though I continue to find the Pebble a little geeky-looking, like a shrunken PalmPilot strapped to your wrist, it definitely seems to succeed where higher-profile products have failed (cough, Galaxy Gear, cough). And by that I mean it delivers nearly any data you want from your phone, all while letting you leave your phone in your pocket or purse.
Of course, I'm fairly geeky-looking myself, and I've already landed a trophy wife (that's Mrs. Cheapskate to you), so who cares if my wrist appears likewise?
So, yeah, I'm pretty tempted to jump on this. If you've already picked up a Pebble yourself, hit the comments and tell me what you think of it!
Bonus deal: You probably know that the fix for crummy TV speakers is a soundbar, but most soundbars are pretty light on the low end. For a limited time, Walmart has the Klipsch Energy Power Bar One for $99.98 shipped (plus tax). Although it's a standalone speaker, it features a built-in subwoofer, which will definitely help boost the bass. Over at Amazon, where it earned four stars from users, it sells for $169.
Bonus deal No. 2: I don't know how much longer these will last, but Voodublu (via Ebay) has the refurbished Asus VivoTab RT tablet with 4G LTE for $149.99 shipped. That's without a doubt the best Windows RT tablet deal I've ever seen, and you can pick up the optional Asus keyboard dock elsewhere on Ebay in the $50-60 range. The VivoTab comes with a 90-day Asus warranty.
This
post
was originally published on
this site