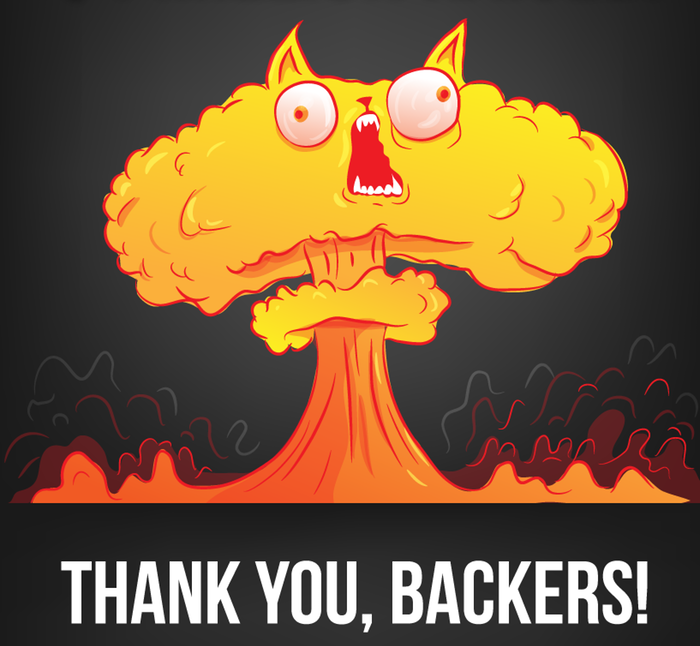 Tonight a project called Exploding Kittens made Kickstarter history.
With 219,382 backers, it became the most-backed Kickstarter project of all time! It more than doubled the previous record of 105,857, held by Reading Rainbow since last summer. Wondering what the backings leaderboard looks like?
The Most-Backed Kickstarter Projects of All Time
1. Exploding Kittens - 219,382 backers
2. Bring Reading Rainbow Back for Every Child, Everywhere! - 105,857 backers
3. The Veronica Mars Movie Project - 91,585 backers
4. Double Fine Adventure - 87,142 backers
5. Torment: Tides of Numenera - 74,405 backers
6. Project Eternity - 73,986 backers
7. Pebble: E-Paper Watch for iPhone and Android - 68,929 backers
8. Mighty No. 9 - 67,226 backers
9. OUYA: A New Kind of Video Game Console - 63,416 backers
10. COOLEST COOLER: 21st Century Cooler that's Actually Cooler - 62,642 backers
11. Wasteland 2 - 61,290 backers
Exploding Kittens isn't only the most-backed project, it's also the most-funded Games project ever, raising $8,782,571. That makes it the third-most-funded project in Kickstarter history. Not bad for a humble card game, huh?
Earlier this week, the Exploding Kittens team (Elan Lee, Shane Small, and The Oatmeal's Matthew Inman) shared a thoughtful update with their backers. Here's what they had to say:
"We've never seen anything like you guys, and neither has the planet. You have proven beyond any doubt that you are unstoppable. There's nothing we can put in front of you that you can't do. There is nothing too great, nothing too hard, nothing too outrageous that you incredible group of incredible people can't accomplish as a community."
We'd like to extend a sincere congratulations to Exploding Kittens, and every one of you 219,382 amazing humans that made it happen.
<3
Kickstarter
This
post
was originally published on
this site