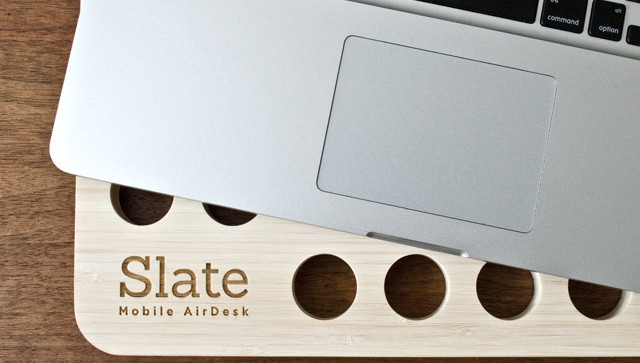 Why Laptops Can Cause Male Infertility And One Project Aiming To Stop It
Design,Life November 27, 2013 , by Nick Warner 305
Slate is a mobile surface that is designed for your everyday laptop, mouse, and device use. The idea is set to minimize all of your needs onto one surface, that rests securely on your lap.
As an avid designer and writer, I have my laptop resting on my lap for long periods of time through out the week. According to recent health news "Laptops Can Cause Male Infertility, Study Warns," the elevated temperatures generated by your laptop have been linked to male infertility. Balancing laptop computers on your lap with no protection raises the scrotum's temperature which in turn can impair sperm says researchers including Carlo Foresta of Padua University.

To combat this issue, the Slate offer an air flow system cut from a block of premium bamboo. The bamboo is ultra lightweight, super strong and absorbs the head from your laptop. Slate's ventilation cools down your laptops. Any of the remaining heat is absorbed within the natural bamboo. The curves, air ventilation, and docking station are chiseled, hand-sanded, and polished to mirror the feeling of glass. A super thick and heavy-duty mouse pad is also installed and sits flush against the surface of the slate. (Slate)
The Slate is a house hold accessory that is making an effort to change the way we use our laptops and our levels or productivity. At the same time Slate is looking out for men around the world, who are at risk of burning up their buddies while watching Hulu.
THE STEAL: $78 for one Slate, but they are going fast!
This
post
was originally published on
this site