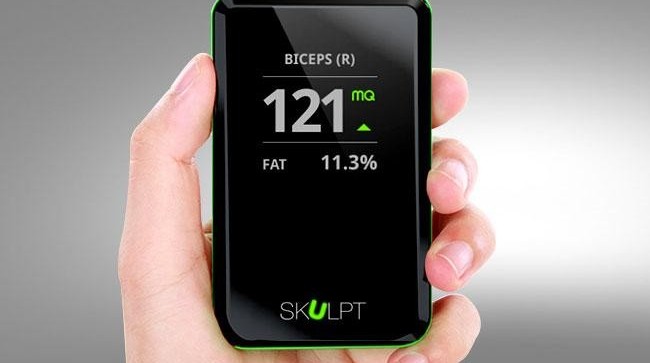 Skulpt Aim revolutionizes the way fitness is measures. This is the best fitness tracker from a team of Ivy League vets, looking to change the way we exercise. The Skulpt Aim, launching on IndieGoGo measures the fat percentage and muscle quality of your workout.
Now, if you've followed CrowdDistrict thus far, you may pickup that we are crazy about the latest fitness technology. We support the effort of those out there looking to improve the quality of health for other. And of course, we loved to get stacked. And that is why we endorse the Skulpt Aim fitness tracker.
I say the Skulpt Aim is the best fitness tracker based on a couple reasons. One being that this tracker, unlike most fitness trackers, measures muscle quality and fat percentage.
These are two crucial measurements needed to determine the results of your workout. The second reason is with these measurements, users can quantify their changes. As explained in our article featuring the Atlas Wristband, recording your steps, calories, and heart rate are not effective means to track your progress. Although motivating these variables are very minuscule in the over all progression of your personal fitness. You need a device that can track your body from the inside out, and that is why Skulpt Aim is the best fitness tracker available.
For athletes everywhere you need the ability to measure how leaner and stronger you are getting every day. That's the only way to improve, and to set your fitness goals. Get a grip on your personal fitness with the Skulpt Aim fitness tracker.
THE STEAL: $149 for your entire Skulpt Aim fitness pack.
[embedded content]
This
post
was originally published on
this site