Right now, there is a robotic oral sex stimulator called the Autoblow 2 smashing it's goal on Indiegogo. Crowdfunding is officially for everyone, from all walks of life. With 15 days left in the campaign, the Autoblow 2 has raised $62,250 of a $45,000 goal. The campaign is being run by former lawyer Brian Sloan, now a self made expert in self pleasure toys.
How A Lawyer Became A Sexprenuer
It's an interesting story that led Brian Sloan to living in China creating sex toy products. In a recent interview with VICE, after graduated law school and began working at a cushy law firm, he decided to take a trip to China. During his trip, he experimented with buying and selloing antiques as a way to create income and pay for his entire trip. Seems really random right? Well, it worked. However, flipping old junk wasn't something new to Sloan.
Prior to becoming a short term antique dealer in Asia, he spent his weekends during his days as a lawyer buying and selling goods from garage sales. On his weekends, he would wake up at 6am with a list of garage sales marked throughout his community to attend to. He soon realized he was making more money buying and selling goods that at his law firm. Unless he was garage sale shopping in Beverly Hills, We find that hard to believe. Although, this odd hobby and weekend morning tenacity should be a testament to his work ethic.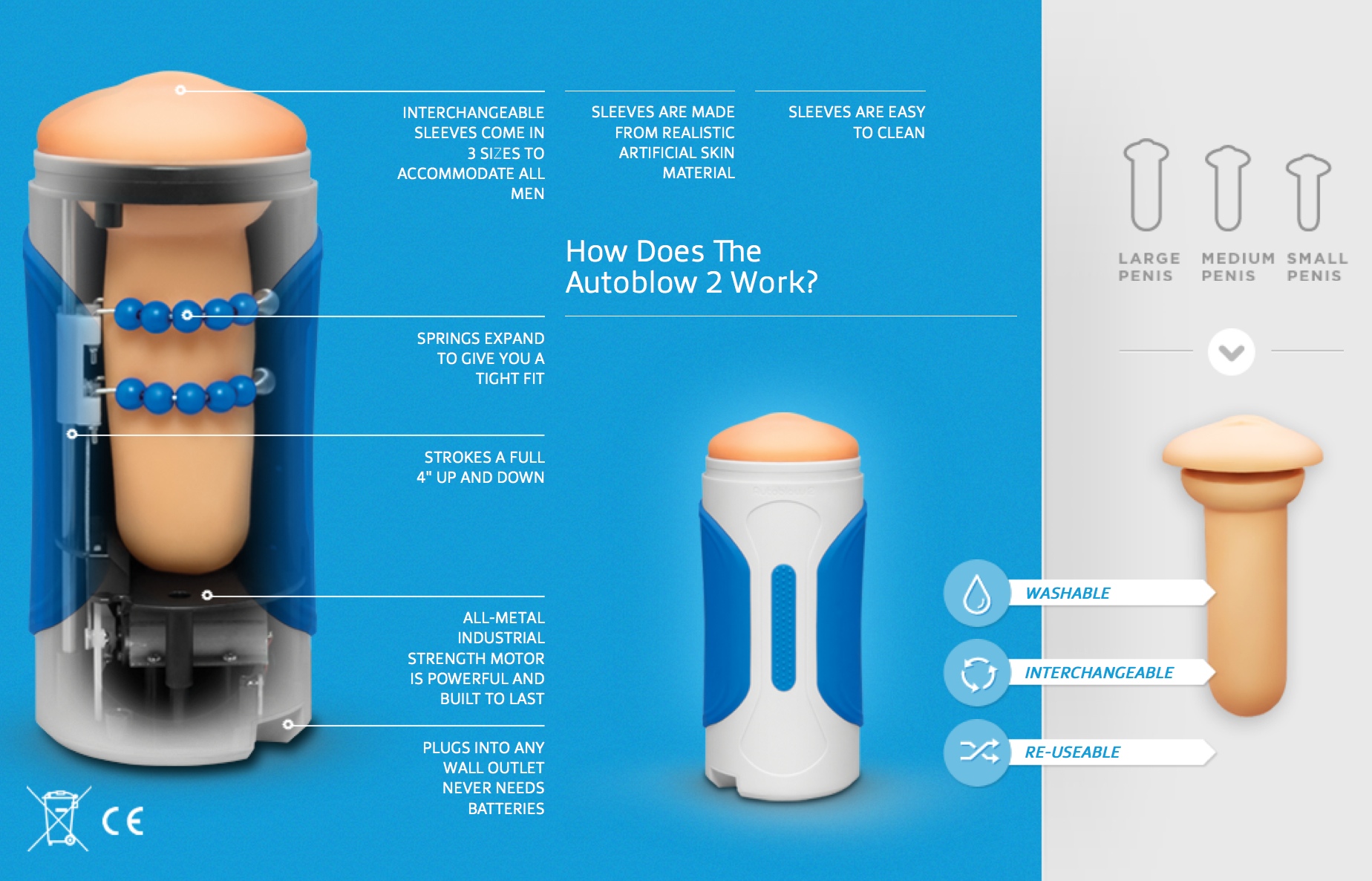 Back to his antique dealing in China, Sloan admits he became quite an expert at buying/selling goods on eBay. Not only did he become proficient at selling his own goods, but he began to recognize trends outside his normal niche. Enter the adult entertainment industry. He noticed that there was a lack of adult latex and fetish wear, especially for large people, on the popular merchant service. Being based in China, the manufacturing capital of the world, he set out to find something people could buy. He ended up making a small profit which eventually led him to create the Mangasm, Ladygasm, and Autoblow 1.
A Perfectly Executed Campaign
Sloan executed his campaign perfectly. After getting a background on the hustle, drive, and entrepreneurial mindset of the maker behind the Autoblow 2, it's no surprise. This campaign could have easily not raised any money, and be taken as a joke project. Here's a couple aspects on the Indiegogo campaign Sloan did beautifully.
Indiegogo Offering
With a hilarious, yet informative video, Sloan hooks in the potential supporter. His video is just over 2 minutes long which is generally on the shorter side of most projects. We would like to see it be a little bit shorter but Sloan benefits from creating a project so out of norm on Indiegogo, he has a few more potential seconds to capture his audience.
Beyond the initial video, there is a plethora of high resolution pictures of the product for potential supports to see. Bottom line: If I'm thinking about sticking Lil Andy in a device made from rubber, plastic, and machinery, I want to see this thing inside and out. Displayed high quality pictures is also extremely important to a blogger who might be writing about his campaign. Think of your campaign page like a press kit.
Addresses All Concerns When Purchasing A Sex Toy
Moving beyond the potential for this project to be taken as a joke by the crowdfunding community, Sloan addresses all the fears of someone supports this project. Anonymity and Safety.
Anonymity – Sloan educates the user how to remain anonymous on the backer wall when donating. He also makes sure you understand that when you receive the package, it will be in a brown wrap with no indication where it came from.
Safety – Any first time user of a sex toy that is plugged into an outlet will be concerned with the entire idea of it. I mean, come on, you are lubricating your Johnson and putting it into something plugged into a wall.
Credible Team Beyond Sloan
Moving beyond the obvious credibility of team leader Brian Sloan, the Autoblow 2 team is comprised software engineers, marketing managers and analysts, graphic designers, and most importantly customer service. They are based all around the world in different timezones to meet your needs. After already creating 3 previous products in the sex toy industry, rest assured that this product will be high quality and delivered on time.
The Final Wrap Up
Sloan and the Autoblow 2 team make an excellent representation of a great crowdfunding project. They have a very intriguing product that focuses on a niche of users based on their previous product. Since this isn't their first time making product in the sex toy industry, we can be assured that will be able to deliver a quality product, and on time.
[embedded content]
Autoblow 2 Intro Video For Indiegogo Campaign from Letsgasm! on Vimeo.
This
post
was originally published on
this site